Roast Vegetable and Quinoa Salad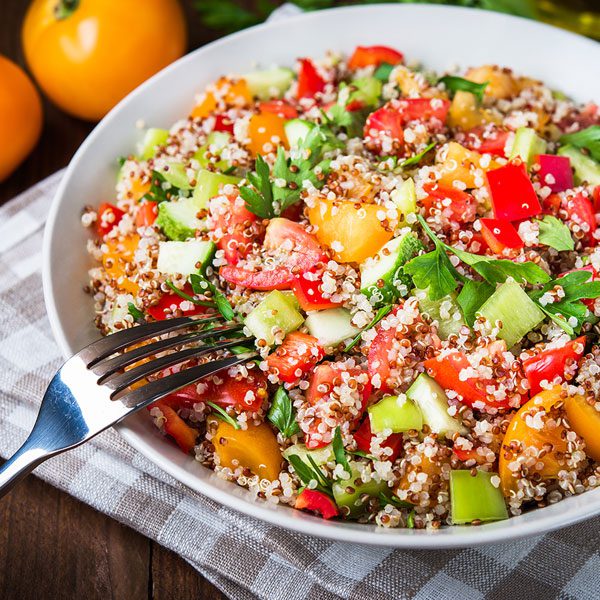 Ingredients
2 baby fennels, quartered
1 large zucchini, halved and thinly sliced
1 medium red onion, cut into thin wedges
1 yellow capsicum, cut into small pieces
250g cherry tomatoes
2 garlic cloves, minced or thinly sliced
2 tbsp extra virgin olive oil
1 cup quinoa, rinsed
1 tsp ground cumin
150g baby spinach leaves
¼ cup red wine vinegar
Method
Preheat oven to 200ºC or 180ºC fan-forced. Lightly grease a large baking tray or cover with baking paper. Place fennel, zucchini, onion, capsicum, tomatoes and garlic on tray, drizzling with oil. Toss to combine.
Roast for 20-25 minutes or until vegetables become tender. Remove from oven.
While vegetables are cooking, bring 2 cups of water to the boil in a saucepan over high heat. Add quinoa and cumin and reduce to low heat. Simmer and cover for 10-12 minutes or until water has been absorbed and quinoa is tender.
Place quinoa in a large bowl. Add roasted vegetable mixture and spinach, tossing to combine. Drizzle salad with vinegar and season with salt and pepper. Gently toss to combine and serve.