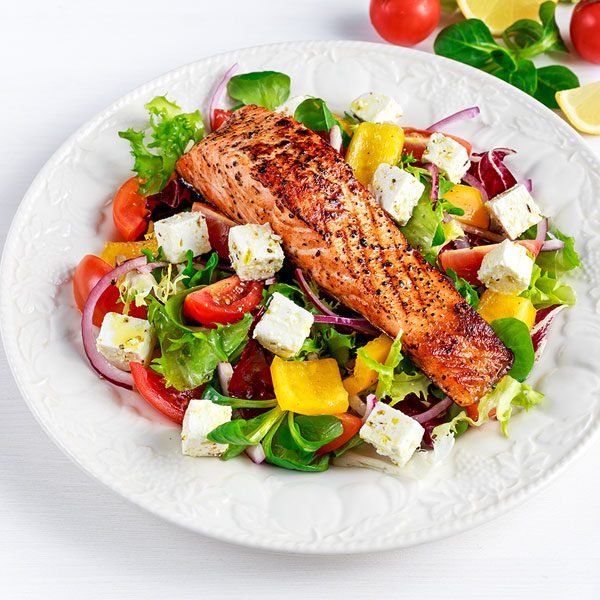 Ingredients
Salmon:
1 salmon fillet
2 garlic cloves, minced
¼ cup chopped parsley
½ cup parmesan (optional)
Salad:
1 large tomato, diced
½ capsicum, diced
1 cup leaves
1 small red onion, thinly sliced
2 tbsp coriander, chopped
40g feta, cubed
¼ avocado, diced
Juice of 2 limes
Extra virgin olive oil
Himalayan sea salt
Method
Preheat oven to 220ºC. Line oven tray with baking paper or aluminium foil.
Place salmon, skin side down, onto lined baking sheet. Cover salmon with another piece of baking paper, baking salmon for 10 minutes.
While salmon is cooking, combine salad ingredients in a large bowl. Squeeze lime juice over the top and drizzle with olive oil. Gently toss, adding salt as needed.
Remove from oven and remove top piece of baking paper. Top with garlic, parmesan and parsley mixture. Return to oven uncovered and allow to bake for a further 5 to 10 minutes, or until Parmesan cheese is melted and lightly browned.
Allow to cool for approx. 5 minutes and serve with salad.