Baked Chicken and Vegetables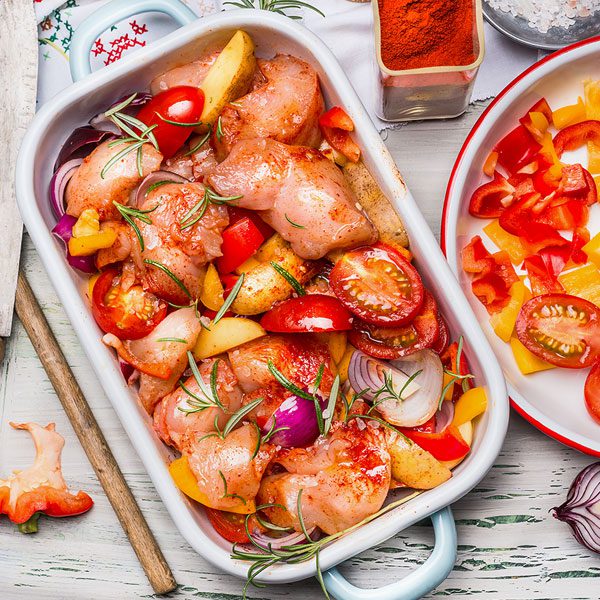 Ingredients
1 ½ kg chicken thighs, skin on, trimmed
1 tbsp extra virgin olive oil
1 tbsp rosemary sprigs, fresh
3 garlic cloves, crushed
Salt and pepper, to taste
¾ cup chicken stock
750g potatoes, washed and cut into 1 ½ cm-thick pieces
1 large red onion, cut into wedges
2 tbsp fresh lemon juice
2 medium tomatoes, wedged
1 capsicum seeded and chopped
Lemon wedges, to serve
Optional capsicum sauce:
1 cup canned capsicum strips, chopped and drained
1 tbsp Greek yoghurt
Method
Toss chicken through oil, rosemary and garlic in a large bowl, seasoning with salt and pepper.
Place stock in a large baking tray, add potatoes, chicken, onion and lemon juice.
Cook in a pre-heated oven on 220ºC for 30 minutes. Add tomatoes and capsicum and cook for a further 20 minutes.
Capsicum sauce: Blend capsicum and yoghurt in a blender until smooth. Drizzle over chicken and vegetables.