Roast Chicken With Garlic Green Beans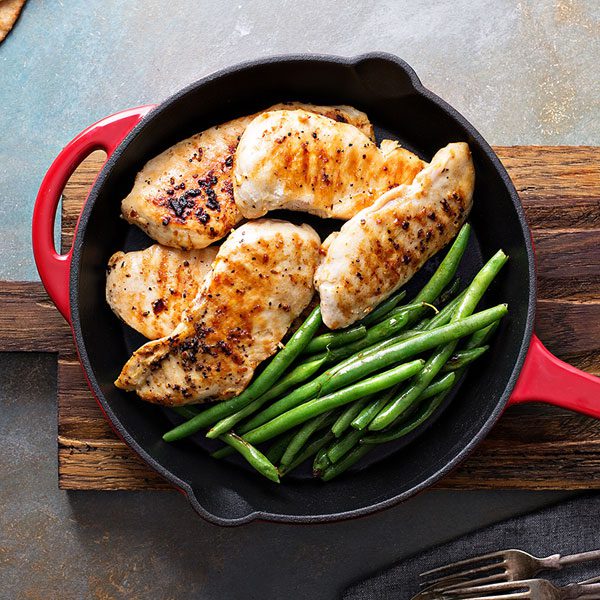 Ingredients
6 tbsp olive oil or coconut oil
2 lemons, 1 thinly sliced, 1 juiced
4 cloves garlic, minced
1 tsp sea salt
½ tsp freshly ground black pepper
340g green beans, ends trimmed
8 small red potatoes, quartered
4 chicken breasts, with skin
Method
Preheat oven to 230ºC. Coat a large baking tray with 1 tbsp. of oil, arranging a single layer of lemon slices on the bottom.
In a large bowl, combine lemon juice, garlic, salt, pepper, green beans and remaining oil, tossing to coat. Using tongs, remove green beans and layer them on top of lemon slices.
Add potatoes to same olive oil mixture and toss to coat. Arrange potatoes on separate baking tray. Place chicken with olive oil mixture and coat thoroughly.
Place chicken on top of potatoes, pouring any remaining olive oil mixture over chicken.
Bake chicken and potatoes for 50 minutes. Remove tray and place beans in oven for 10 minutes. Place a chicken breast on each of 4 serving plates, dividing green beans and potatoes equally. Serve warm.