Baked Lemon Garlic Salmon With Asparagus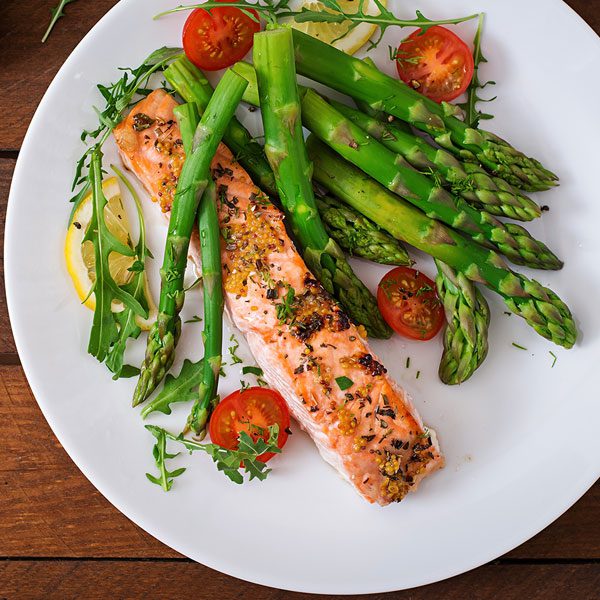 Ingredients
110g skinless salmon fillets, about 1-inch thickness
4 tbsp unsalted butter
Zest and juice of ½ lemon
½ tsp fresh or dried herbs
2-3 garlic cloves, minced
Pinch of red pepper flakes (optional)
Himalayan sea salt and freshly ground black pepper to taste
450g asparagus, ends cut off
4 lemon slices, plus extra for serving
Method
Preheat oven to 230ºC. Tear off 4 pieces of foil, measuring approximately 25x35cms. Divide asparagus evenly between the foil, sprinkle lightly with salt and pepper, top with a lemon slice, and set aside. Pat the fish dry with paper towels.
Using a fork, combine butter, lemon zest and juice, herbs, garlic, pepper flakes, salt and pepper to taste.
Spread 1 tbsp of butter mix on each piece of salmon and carefully transfer each piece to foil. Wrap and seal the packets, and transfer to a baking sheet.
Bake for approx. 15-20 minutes until the salmon is just cooked through and asparagus is crisp and tender. Open very carefully, serving fish and asparagus with accumulated juices and extra lemon.