Lean Steak and Salad Wholemeal Wrap With Guacamole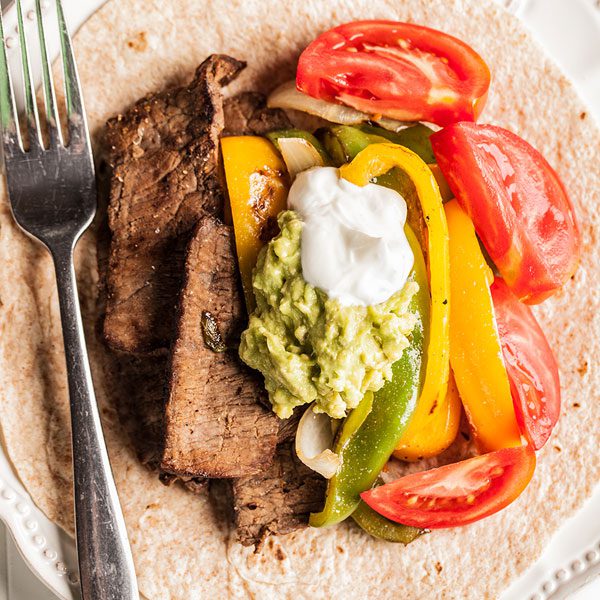 Ingredients
680g lean steak (eye fillet or sirloin is best)
2 tsp cumin
1 tsp fresh coriander
2 garlic cloves, minced
4 tbsp fresh lime juice
3 tbsp extra virgin olive oil, divided
2 avocados, peeled, pitted and diced
½ red onion, finely chopped
½ tsp crushed red pepper flakes (optional)
2 large tomatoes, quartered
1 green capsicum, chopped
1 yellow capsicum, chopped
Sea salt and cracked black pepper to taste
Dollop of sour cream (optional)
Method
In a small saucepan with 2 tbsp olive oil, add cumin, coriander, garlic and 2 tbsp. lime juice, sautéing for approx. 3-5 minutes.
Add steak and capsicum to saucepan, seasoning with salt and pepper. Cook for 3 minutes each side for medium-rare.
Make guacamole: In a medium bowl, mash together avocado, onion, coriander, red pepper flakes, and remaining 2 tbsp lime juice until chunky, then season with salt.
Thinly slice steak, and serve with fresh tomato, coriander and guacamole.